UFG names Jordan Sherry marketing manager of the Rocky Mountain region
Released on: Sep 19, 2016, 00:00 AM
CEDAR RAPIDS, Iowa – September 19, 2016 – Jordan Sherry has been named Rocky Mountain regional marketing manager by United Fire Group (UFG). The Rocky Mountain region currently includes the states of Colorado, Idaho, Montana, New Mexico, Utah and Wyoming.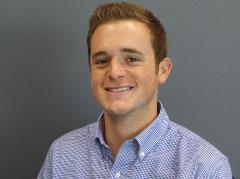 "Jordan's years as a field marketing representative, working one-on-one with our agents, brings invaluable experience to his new role as marketing manager," said Jeremy Bahl, UFG vice president and regional branch manager. "Jordan has a vision and plan for our region and I am confident he will take us to the next level."
About United Fire Group, Inc. (UFG)
Founded in 1946 as United Fire & Casualty Company, UFG, through its insurance company subsidiaries, is engaged in the business of writing property and casualty insurance and life insurance, and selling annuities. Through our subsidiaries, we are licensed as a property and casualty insurer in 46 states, plus the District of Columbia, and we are represented by approximately 1,200 independent agencies. The United Fire pooled group is rated "A" (Excellent) by A.M. Best Company. Our subsidiary, United Life Insurance Company, is licensed in 37 states and represented by approximately 1,300 independent life agencies. For more information about UFG, visit www.ufginsurance.com.
For more information about UFG, visit
www.ufginsurance.com
.
Contact: Colleen Scholer, Corporate Communications Manager, 319-399-5622 or
cscholer@unitedfiregroup.com
.