Andy Buck
Andy Buck
Going Beyond 2020: Andy Buck
Andy Buck wears a lot of hats: UFG Insurance claims supervisor, avid volunteer and, most recently, our 2020 employee winner of the Go Beyond Award.
---
This award honors the legacy of former UFG leader (and son of our company's founder) Scotty McIntyre Jr., who engrained within our corporate culture the importance of giving back.

UFG Claims Supervisor Andy Buck was named the 2020 UFG Insurance employee Go Beyond award winner. Andy, who just completed his 12th mission trip with HERO Makers (Helping Everyone Remember Orphans), works to brighten the future for kids in need.

UFG is proud of Andy and is happy to make a $5,000 contribution to HERO Makers in recognition of Andy's work.
What's your mission?

"I simply want to be a good person and let my example encourage people to speak up for the unseen and forgotten," Andy says.
That's his mantra when describing his mission in life.

Andy has now been on 12 mission trips to Mexico in 10 years after first being hesitant to put himself out there. "I observed several friends return from these trips with a different outlook on life and attitude. I figured I would do it once and it would be done and they would quit bugging me," he says as he laughs. "You might say I got hooked."
Andy originally learned of HERO Makers from a church he was attending in Kansas City. He knew he wanted to do something to help, he just needed to start somewhere.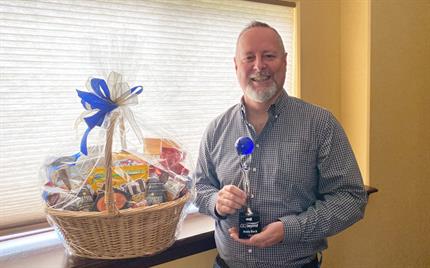 Andy Buck proudly holds his 2020 Go Beyond trophy.
"I never dreamed I could or would do what I have done on these trips," he mentions. "Our HERO Makers team has built a total of eight structures including three children's homes, one single family home, two schools, a dormitory and a multi-purpose building. We've also done numerous remodels, additions and upgrades to existing structures."
A rewarding experience for all involved

If you're thinking about volunteering your time, Andy wants you to be positive and know that you can make a difference.

"I hate to imagine missing out on what I have experienced," he says. "Getting outside of your comfort zone can give you a new attitude and perspective."

He mentioned the most rewarding part of his mission trips is seeing the children's faces when they arrive.

"They remember our names from prior trips and are so happy to see us," Andy says. "They are so thankful and appreciative yet they simply do not understand we truly feel like we receive more than we are giving."

Do you know a UFG agent or employee to nominate?
Nominations are accepted from January 1 through June 30 each calendar year.