Benefits driven by your journey
Enjoy comprehensive support while on your path to success
---
More than 75 years later, UFG Insurance remains committed to the belief that insurance is a people business and that it's our people who determine the success of our business.
In support of this, we're proud to offer our employees robust, competitive and inclusive benefits to help support people wherever they're at on their individual journeys. We're thinking outside the box to ensure as many of your wants and needs are met as possible. See what speaks to you below.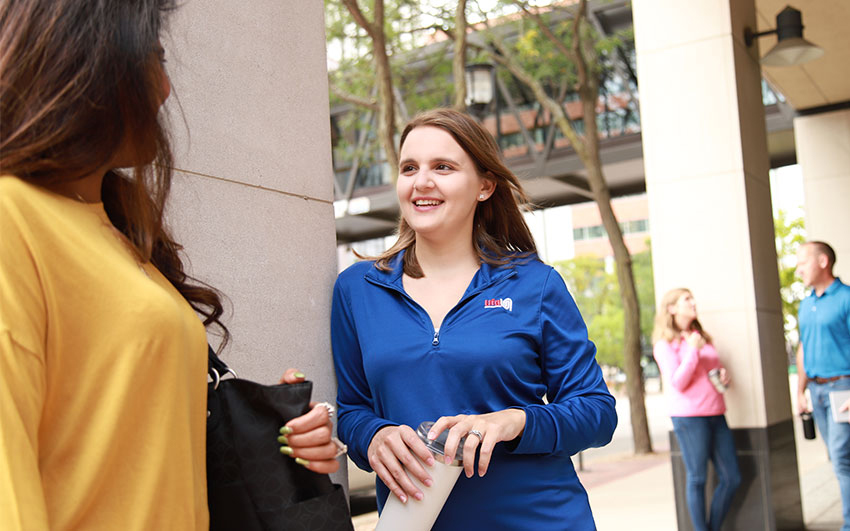 Find your balance
Flexible, hybrid or remote options for the work-life balance you deserve.
Relaxed in-office dress code.
Generous paid time off (PTO):

Company holidays (9 per calendar year).
Floating holiday (8 hours).
Birthday (8 hours).
Well-being day (8 hours).

Community service hours (up to 16 hours per calendar year).
Promote your well-being
Medical, dental, vision, life and disability insurance.
Telehealth for both medical and mental health services.
Health savings account (HSA) program with company contribution.
Flexible spending account (FSA) programs with company contribution.
Employee assistance (EAP) and advocacy services (available 24/7).
Paid parental leave for birthing and non-birthing parents.
Voluntary coverage:

Accident insurance.
Critical illness insurance.
Identity theft protection.

Additional health and wellness perks:

On-site corporate wellness manager.
On-site U[Fit] gym with many class options.
Gym stipends to offset membership fees for employees not within 30 miles of a U[Fit] location.
Regular virtual classes to discuss employee wellness topics.
Wellness rewards system with mobile app tracking (includes an opportunity to save on health insurance premium).
Access to on-demand wellness classes.
Wondr Health program to improve well-being through behavior change skills and tools.
Express your individuality
Diversity, equity and inclusion (DE&I) council to support the recruiting and retention of diverse employees, and to foster awareness and inclusion.

Discovery diversity sessions to enhance inclusion with meaningful discussions.

Employee Resource Groups (ERG):


EPIC Women's Forum.

Multicultural Employee Network.

Employee Well-Being.

Pride Alliance.


Diversity conversation starters posted on UFG's employee intranet.

Diversity monitoring conducted by Human Resources.
Support your goals
A one-of-a-kind culture designed to support and amplify your success.

Financial incentives:


Fair and competitive compensation.

Annual bonus based on company and individual performance.

Employee referral bonus.

Scholarship program for employees' children.


Fulfilling and clear career paths.

Learning and growth opportunities:


Tuition reimbursement.

Continuing education certification support.

Insurance certificates and designations.

Leadership development program (LDP).

Employee resource groups (ERG).

Communities of practice (CoP).
Enrich your future
Financial planning advice (family, home, vacation, college and retirement).
401(k) savings plan with company match.
Phased retirement plan.
Cash balance pension plan (fully funded by UFG).
Long-term care.
Communities of practice (CoP).
Celebrating moments that matter
UFG's awards and recognition platform allows employees to send and receive notes of thanks, be recognized on special milestones and receive points to be spent on items an individual finds most meaningful.


Pulse score*: 4.1 / 5.0
We send employees the UFG Pulse Survey to gauge their level of satisfaction with their specific role, their leadership, the organization as a whole and more. This survey creates the opportunity for people to feel heard and actionable insights for UFG. Many employee-focused initiatives have come from the feedback received on this survey.
*Metrics as of Q4 2022.

View our available career opportunities and apply online today