Enhancing communities through nonprofit grants
A private foundation with a public purpose.
---
Does your nonprofit qualify?
We don't believe policies are our only purpose here at UFG. While our insurance coverages go to work protecting businesses, our people go to work to make a difference.
The United Fire Group (UFG) Foundation aims to put profits to work for a higher purpose, building upon our mission's promise of community support by awarding nonprofit grants to qualifying organizations. Since it began in 1999, the UFG Foundation has awarded nearly $16 million to nonprofits through 2022.
UFG Foundation historical giving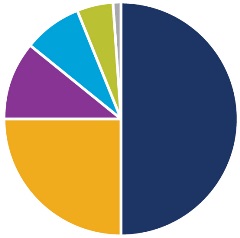 | | |
| --- | --- |
| Human services — 54% | Health services — 6% |
| Education — 25% | Environmental — 4% |
| Arts — 10% | Other — 1% |
Grant funding philosophies
Nonprofit funding is prioritized for organizations providing arts, education, environmental and health/human services in their local community. Asks from nonprofits that serve the greater good in other capacities may be considered as funds allow.
Typically, awards may range from $2,000 to $50,000. The average award is $10,000.
The nonprofit should demonstrate a connection to elements of UFG's vision, mission, values and/or founding principles that shows alignment with corporate ideals.
UFG employee volunteerism is a driver behind funding decisions — if a nonprofit's regular volunteer pool includes at least one UFG employee, mention them by name in the application.

Qualifying nonprofit general guidelines
Nonprofit grants are primarily awarded to organizations located in or near Cedar Rapids, Iowa, where UFG was founded and is headquartered today.
Applications from nonprofits located in or near our branch communities — Phoenix, Arizona; Rocklin, California; Westminster, Colorado; Ewing, New Jersey; Webster, Texas — can be submitted for consideration as funds allow.
A nonprofit that has applied for a UFG Foundation grant must wait 12 months before submitting another application.
The UFG Foundation does not fund religious organizations (such as church bazaars), political efforts (such as campaigns) or school-system clubs/entities (such as music boosters or PTAs).
Multiyear commitments are not typically considered.
A nonprofit is not eligible to receive both a UFG Foundation grant and UFG sponsorship dollars in the same year.
If the nonprofit is seeking corporate sponsorship for a community event, please reach out to sponsorships@unitedfiregroup.com with the request. Do not submit a UFG Foundation grant application.
Types of grant awards
Programmatic
A project or program, new or existing, aimed at benefiting a local community.




Operating


We understand how challenging it can be to find nonprofit funding sources for overhead. That's why the UFG Foundation may consider funding general operating expenses to help with administrative costs for qualifying nonprofits.



Capital campaigns


The UFG Foundation may, under certain circumstances, consider funding capital endeavors.

A qualifying nonprofit can apply during one of three grant cycles with deadlines of submission by April 30, August 31 or December 31. Submission deadlines represent the close of a cycle. Applicants can typically expect an update during the month that follows the close of their respective cycle.
The UFG Foundation's federal tax ID is 42-1492320.