Sponsorship
Sponsorship
Sponsoring a better tomorrow
Every year, UFG commits to making a difference through sponsorships designed to help both local and nationwide organizations create meaningful change.
---
In 2019, UFG assisted more than 70 organizations while providing more than $225,000 in community support through event and program sponsorship.
Many of these sponsorships help community events, business education, and arts and culture.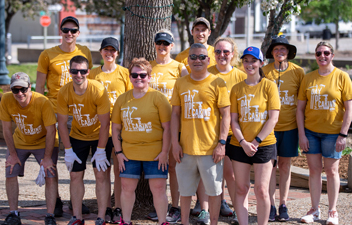 United Way of East Central Iowa
Cedar Rapids, Iowa
In 2020, UFG's employees banded together and raised more than $125,000 for United Way of East Central Iowa (UWECI). On top of that, UFG donated more than $210,000 to UWECI, bringing our combined effort to more than $335,000.

Cedar Rapids branch employee Sierra Williams says she's glad to serve on our United Way committee.

"The United Way of East Central Iowa works tirelessly to improve our neighborhoods and community, which both UFG and I call home. Being on UFG's United Way committee allows me to help bridge the gap between this organization and our employees and help bring awareness to this nonprofit and the wonderful work they do for and in our community."
March of Dimes, Iowa Chapter

Cedar Rapids, Iowa
Many UFG employees raise money and volunteer for the March of Dimes Iowa Chapter in addition to participating in the annual March for Babies.

2019 UFG employee Go Beyond award winner, Ann Mitchell, is part of the UFG march of Dimes committee. She says that the organization is near and dear to her heart.

"The March of Dimes became an extremely important part of my life at a very difficult time. After seeing all the good that they do, I knew I needed to give back to them in whatever way I could, so that more families could feel the support and love that we did."
Life is worth it. Distracted driving is not.

Those of us at UFG Insurance believe we have important responsibilities to encourage safe driving habits. We hear about distracted-driving accidents almost every day, but driving distracted is no accident. It's a choice people make when they settle into the driver's seat. When we all choose to focus behind the wheel, we all work together to create safer roadways that are less risky for travel.

UFG's Worth It campaign to end distracted driving helps support that goal. Worth It is a comprehensive educational and awareness program to remind drivers that life is worth it, distracted driving is not. After absorbing the magnitude of what can happen when a driver takes their eyes off the road, we encourage employees and others to take our Worth It pledge to affirm their commitment to distraction-free driving.
6,000+ pledges
Since we launched Worth It in 2017, we've received more than 6,000 pledges.




300+ Worth It presentations
We've also given more than 300 Worth It presentations across the country.



Take the pledge
Visit ufgworthit.com to take the pledge today.