Fulfilling careers
Fulfilling careers
Mind and body
At UFG, health and wellness sits — lotus position — at the core of our culture. Our investment in employee health and well-being is built on our foundation of helping people rebuild their lives.
---
Your education is our investment

At UFG, employee success is part of our mission. That's why we encourage every employee to expand their horizons and fulfill their career dreams through education. Whether our employees are looking to obtain their Master of Business Administration (MBA) or a professional certification, such as the Chartered Property Casualty Underwriter (CPCU) designation, we support our employees' desire for lifelong learning.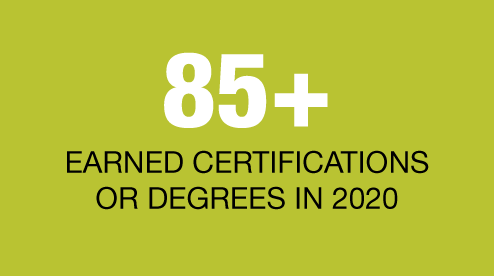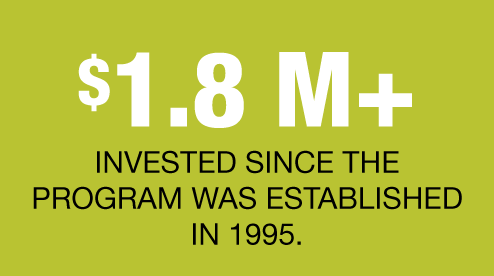 Work-life balance

UFG is dedicated to proactively promoting work-life balance for all employees that respects a variety of values and lifestyles. Balance is the key, as we strive to excel in everyday business activities that help profitably grow the company while also ensuring that our employees lead lives that are personally fulfilling.

Time off
As part of our 11 scheduled holidays, we provide our employees with one floating holiday and one paid day off to use during their birthday month to help balance our busy lives.

Flexible Schedules
Employees are also encouraged to meet with their managers to develop a flexible work schedule that suite their needs outside of work. This also includes the ability to work from home one day per week if desired.
Physical and mental health
Our commitment to advancing the mental and physical health of our people includes:

U[FIT] Wellness Center
Located on-site at corporate headquarters.



Fitness/wellness classes
More than 20 fitness/wellness classes per week.


Easy access to wellness
A mobile-based wellness reward system and an on-demand virtual fitness provider.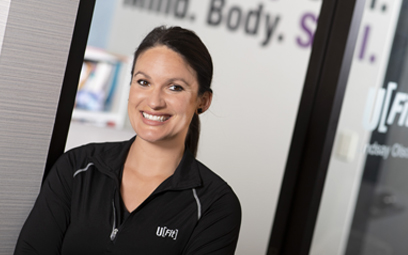 U[FIT] Wellness Center

We are proud to have built our own state-of-the-art fitness center in 2017, encouraging employees to take control of their work-life balance and focus on health, wellness and stress management. We're also proud to have a full-time fitness and wellness coordinator on staff. The coordinator provides one-on-one coaching, customized wellness plans and group classes for all skill levels.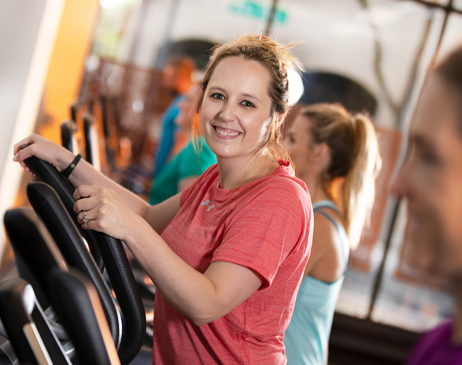 "I have not felt as good, personally and professionally, as I do today. Having this wellness center was near the top of my list of pros for coming to work here at UFG. It is a great stress reliever being able to go exert yourself at whatever you like to do, whether it is running, rowing, biking, lifting, etc. It is a great way to break up the day, and the added benefit I have noticed is the increased amount of awareness and energy I have in the afternoons. This also carries over into my life outside of work. I just feel better about myself."
– UFG employee
Empowering employees to make healthy decisions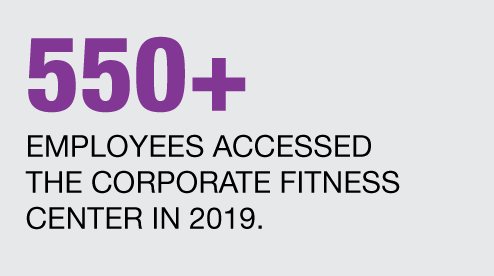 Fitness classes
We offer a variety of group classes including barre, yoga, resistance training, cycling (spin), high-intensity interval training (HIIT), tabata, dance, kickboxing and boot camps. To mesh our passion for community with wellness, we've also held multiple physical activity fundraisers.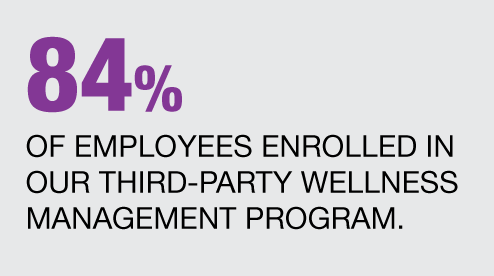 A wellness reward system
84% of our employees are enrolled in our third-party wellness management program designed to cultivate good lifestyle habits. This program also provides monetary incentives based on physical activity and premium credits on health insurance when employees reach certain thresholds.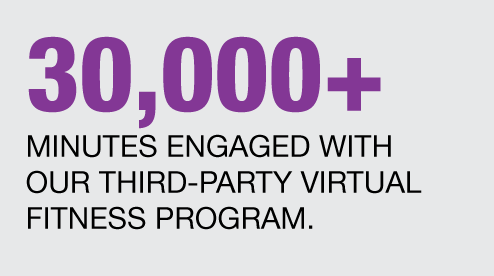 Wellness to-go
Our employees have engaged with our third-party virtual fitness program for more than 30,000 minutes in the past year. It provides on-demand classes, workout plans and fitness assessments anywhere, anytime. It's also a great way for employees to take a workout class at off hours because of travel, night school or family life.