Jennifer Luitjens
Jennifer Luitjens
Going Beyond 2022: Jennifer Luitjens
Jennifer Luitjens, personal lines agent at Boen & Associates, Inc., was named the agent winner of the 2022 Scotty McIntyre, Jr. Go Beyond Award.
---
The Go Beyond award honors the legacy of former UFG leader (and son of our company's founder) Scotty McIntyre Jr., who engrained within our corporate culture the importance of giving back. In that spirit, UFG is honored to make a $5,000 contribution to the Hardwick Fire Department in recognition of Jennifer's above-and-beyond service to others.
Whatever it takes
South Dakota personal lines agent Jennifer Luitjens' parents always found a way to help others, perhaps inspiring her natural willingness to jump in and help wherever it's needed.
"Anything I can do to bring some kindness and joy to someone makes it worth it," she says.
Jennifer's a volunteer firefighter and first responder for the Hardwick Fire Department, she serves as superintendent for the Rock County 4-H Livestock program and helps raise money for people and families battling cancer with the Corson Pink Ladies, Inc.
While choosing a favorite would be impossible, Jennifer says the Pink Ladies, also known as Ribbon Warriors, hold a very special place in her heart. She stands behind their mission to show love and support to those who are fighting for their lives and to make sure they never feel alone.
"Even though they have family and friends supporting them, every little bit of extra support helps," explains Jennifer.

Since 2014, the Pink Ladies have contributed more than $300,000 to families in need. Jennifer's proud of the work they've done and continues to be in awe of the gratitude these families have shown.
"They feel they don't deserve the gift that we give them," she says, "we tell them they didn't deserve to be battling cancer."

This unmistakable passion for helping others caught the attention of Jennifer's colleague Miranda Lee, personal lines agent at Boen & Associates, Inc. When nominating Jennifer for this award, Miranda says she struggled to find the right words to describe the power of Jennifer's impact.
"She is always putting others before herself and not thinking twice about it," Miranda says. "Nothing is halfway when she is involved."
Miranda is inspired by Jennifer's fearless ability to jump in, without hesitation, to tackle challenges and help people. She's remined of the "first in, last out" saying when reflecting on Jennifer's work as a firefighter.
"She is an amazing person and has a heart of gold," says Miranda, "and she thoroughly enjoys making this world a little bit brighter.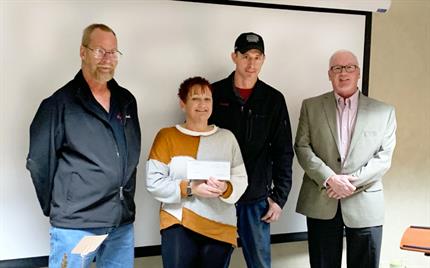 Jennifer awarded $5,000 contribution for the Hardwick Fire Department, alongside her husband, Hardwick fire chief and UFG Senior Marketing Representative Tom Diefendorf.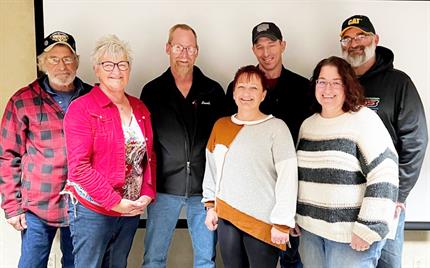 Jennifer standing with the colleagues and family who helped surprise her with the award.
Do you know a UFG agent or employee to nominate?
Nominations are accepted from January 1 through June 30 each calendar year.