Phil Collins
Phil Collins
Going Beyond 2020: Phil Collins
Phil Collins, commercial lines account executive at UFG Insurance partner agency Fischer Rounds & Associates, was named the 2020 Scotty McIntyre Jr. Go Beyond award winner.
---
UFG is proud to donate $5,000 to his nonprofit of choice, Special Olympics South Dakota, in honor of his dedication to selfless community service.
Inspiring personal growth
Phil Collins is no stranger in the community of Mitchell, South Dakota. He's a friendly face at UFG Insurance partner agency Fischer Rounds & Associates, connecting businesses to coverage needs and even going so far as to give them a helping hand if they suffer a loss.
"He goes above and beyond for his customers on a daily basis but especially in times of need," explains co-worker Jenna Byrd. "He is the first one to give a customer a call and see if they need help, not only to check if they are ok but if they need help removing the tree that fell on the roof and getting his hands dirty."

That sense of hands-on community betterment is present in Phil's personal life, too.

"I firmly believe that each person has something important to offer others," he says and considers himself lucky to have volunteer opportunities that help individuals grow.
Phil's a well-known volunteer, having served as past president of United Way, Junior Achievement and LifeQuest Foundation. A passion for teaching led him to youth sports coaching, where he helped with football, basketball, baseball and weight training. One of his most fulfilling opportunities today is coaching softball, bocce ball, power lifting and basketball athletes of Special Olympics South Dakota.

"It is great to watch others strive to fulfill their objectives," he states. "Achievement is such a power motivator for more good things to come."

Achievement not only spurs forward the athletes Phil coaches but motivates his co-workers to spread goodness as well.

"The dedication Phil shows spills over into our agency and makes our employees want to do more in the community and volunteer for causes that are closer to their heart," explains co-worker Anne Reindl. "Phil never does what he is doing for recognition, he does it because it matters to him."
Phil's enthusiasm for helping people overcome barriers to success is contagious. Many office mates have joined his support of Special Olympians.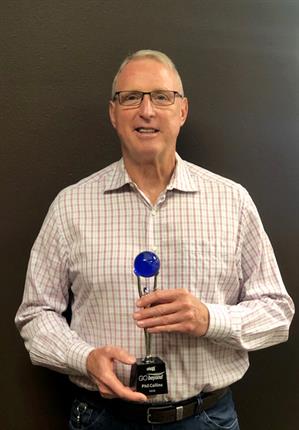 Phil Collins proudly holds his 2020 Go Beyond trophy.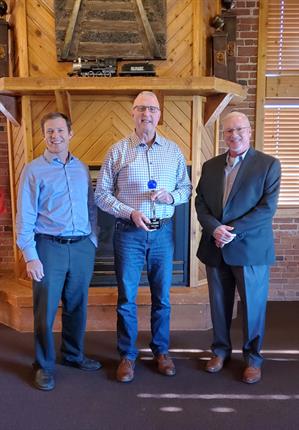 Colleagues join in congratulating Phil on this well-deserved honor.

"It began when he got a group of people together to participate in the Polar Plunge," remembers co-worker Marissa Becker. "After a couple years of that, we have now branched off and formed a group that is participating in the Virtual Torch Run for Special Olympics. We have logged many miles to raise money and we are having a blast doing it! None of this would be possible without Phil sharing his passion with us all."

"Phil has become a local hero to the special needs community and a leader by example," adds co-worker Tanya Dise. "He has a way of empowering individuals and providing guidance and encouragement on how to set a goal and achieve it…he is an incredible example of what it means to be a humble leader when it comes to volunteerism and community involvement."

In reflecting on the importance of doing what he can to make his community even better, Phil says possibly impacting lives "in a positive way" is a great feeling. He loves seeing where his athletes go in the future and what his co-workers do with their own volunteer passions.

"I have been pleasantly surprised how many individuals pay it forward," Phil says. "It is nice to know that maybe you were a part of their growth."

UFG Insurance is proud to gift $5,000 to Special Olympics South Dakota in recognition of Phil's inspirational work.

Do you know a UFG agent or employee to nominate?
Nominations are accepted from January 1 through June 30 each calendar year.