Max Gruenig
Max Gruenig
Going Beyond 2023: Max Gruenig
Max Gruenig, agent with AssuredPartners, was named the agent winner of the 2023 Scotty McIntyre Jr. Go Beyond Award.
---
The Go Beyond award honors the legacy of former UFG leader (and son of our company's founder) Scotty McIntyre Jr., who engrained within our corporate culture the importance of giving back. In that spirit, UFG is honored to make a $5,000 contribution to the Lakeview Boosters Club in recognition of Max's above-and-beyond service to others.
Max Gruenig, Agency Sales Team Leader at AssuredPartners, has a friend who says, "gratitude changes everything" and he could not agree more. He has come to realize that the volunteer and community service events he participates in have allowed him to experience gratitude at a level that he believes you can't experience otherwise.
Volunteerism and community service have always been a part of Max's life. He credits his mom's dedication to her students in the public school system, his dad's humble upbringing and his Catholic education as laying the groundwork for his commitment to service and meeting people where they are at. Though, today, Max credits his wife and kids for giving him the support he needs to continue giving back.
Examples of Max's current volunteerism include providing enrichment opportunities for local children as a board member of the Lakeview Boosters Club, helping motivate disadvantaged youth to become successful in college and beyond with Boys Hope Girls Hope and serving food to local families after Hurricane Ida devastated Southern Louisiana. He also participates in an annual Sleep Out fundraiser for Covenant House of New Orleans, where he sleeps outside the facility on a cardboard box to show those in shelters that they are not alone.
"The main reason I give back is to connect with people that are different from me. It keeps me grounded to know that my everyday burdens are nowhere near what others have experienced," says Max.
One of the most memorable ways Max has given back was for The Good Shephard School, which is a free Catholic elementary school that serves to give underprivileged children a quality education. It's an extended day and an extended year to keep kids off the street and in the classroom. He won their "Dancing with the Stars" fundraiser — an event which raised almost $400,000.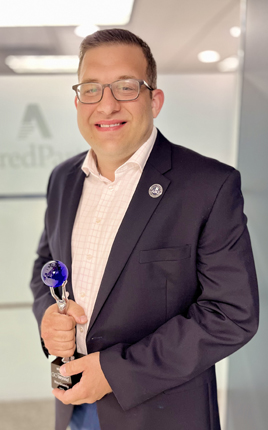 UFG's 2023 Agent Go Beyond Award winner, Max Gruenig.
From left: Evin Beck (UFG Sr. Marketing), Diane Hirtz (UFG Houston Branch Manager), Joelle Lapeze (UFG LA Underwriting Supervisor), Max Gruenig and Alicia Robin (UFG Sr. Underwriter).
When asked to share a moment he realized he was making a real difference for others, Max explains that he once owned a restaurant which partnered with local schools to do a Thanksgiving Day basket. He recalls a mother picking up a basket and beginning to cry as she was overcome by generosity.
"The real gift is seeing where people are, participating in their life and listening," Max shares.
Max's colleague and his Go Beyond Award nominator, Karen Scioneaux, calls him a local hero and is impressed by his dedication.
"He brings a positive attitude and high energy when chairing, participating and working for the good of others," Karen explains. "Max is one of those people who you never forget once you meet him."
Do you know a UFG agent or employee to nominate?
Nominations are accepted from January 1 through June 30 each calendar year.