Candice Sweet named a 2023 Go Beyond recipient by UFG Insurance
Released on: Nov 8, 2023, 08:00 AM
CEDAR RAPIDS, Iowa – November 8, 2023
UFG Insurance has announced Candice Sweet as recipient of the 2023 Scotty McIntyre, Jr. Go Beyond award, recognizing UFG employees for their exemplary community service efforts.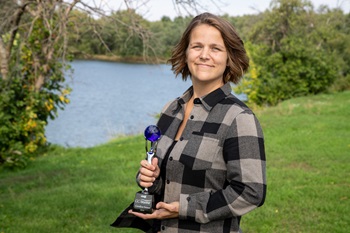 Candice is a business analyst II working remotely for the company in Quasqueton, Iowa. She was nominated by two of her colleagues for her dedication to community support and volunteerism in Quasqueton.
After watching many members of her small community — just 292 households — struggle to make ends meet, Candice began the "Little Free Pantry," to help those in need. The pantry is where individuals can go to receive free food, toiletries and personal care items in a "take what you need, leave what you can" philosophy. The pantry provides both accessibility and convenience for the Quasqueton community.
In addition to the pantry, Candice has partnered with the Northeast Iowa Food Bank to help deliver bags of food to students in need during the summer months. She's also a "big sister" for the Big Brothers Big Sisters organization.
"There are some amazing folks that have received this award and to be in their company is a true honor," says Candice. "I was so surprised when presented with it and to say my heart was full is an understatement."
The Go Beyond award recognizes its recipient and honors the legacy of Scotty McIntyre, Jr., former CEO, chairman and son of UFG founder Scott McIntyre. Scotty cultivated a culture dedicated to giving back and community support.
"Candice's work supporting her community is inspiring," says UFG Community Relations Coordinator and Go Beyond committee member Katie Jensen. "She truly embodies the spirit of this award and we're proud to have this opportunity to recognize her."
In addition to a trophy, Candice had the opportunity to select a nonprofit to receive $5,000 from UFG in honor of her volunteerism. She has chosen the Soulfull Supply Co. non-profit — also known as the Little Free Pantry — and UFG is proud to honor her with this philanthropic gift.
###
About UFG
Founded in 1946 as United Fire & Casualty Company, United Fire Group, Inc. (UFG, Nasdaq: UFCS), through its insurance company subsidiaries, is engaged in the business of writing property and casualty insurance.
Through our subsidiaries, we are licensed as a property and casualty insurer in 50 states, plus the District of Columbia, and we are represented by approximately 1,000 independent agencies. Rated "A-" (Excellent) by AM Best, with stable outlook, reflecting long-term balance sheet strength.
For more information about UFG visit
www.ufginsurance.com
.
Contact: Casey Prince
Assistant Vice President &
Marketing Communications Manager
UFG Corporate Communications
319-399-5622 (w), 319-360-5578 (c)
cprince@unitedfiregroup.com