About UFG
About UFG
A financially strong — and trustworthy — insurance company
UFG Insurance is a successful and growing multibillion-dollar-asset insurance company, dedicated to protecting people and earning their trust.
---
Founded in 1946, UFG offers insurance protection for businesses, including:
---
Our products are available exclusively through a select group of more than 1,000 independent property and casualty insurance agents across the country, directly serving the insurance needs of people in their communities.
With a UFG workforce of over 1,100 employees — working at our corporate headquarters in Cedar Rapids, Iowa, and five branch offices in Westminster, Colorado; Webster, Texas; Pennington, New Jersey; Los Angeles, California; and Rocklin, California — we can be depended on to deliver exceptional protection and service to our thousands of policyholders in every region of the U.S.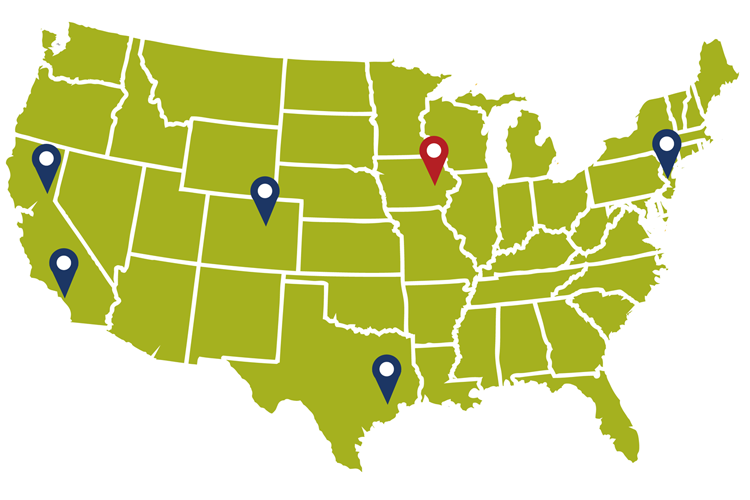 A Foundation of Trust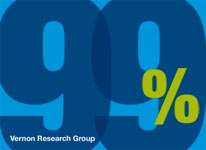 At UFG, we've built our company on the foundation of trust, because we know that trust matters — to our customers, employees and shareholders — who have all invested in UFG for the future, whether it's in the form of insurance protection, a career or shares of stock.

In a third-party research study conducted by Vernon Research Group, 99 percent of UFG insurance agents surveyed said that an insurer's trustworthiness is important and the agents rated UFG as a trustworthy insurance company.
Industry ratings and recognition

UFG Insurance is a publicly traded company and has been listed on the Nasdaq Stock Market under UFCS for more than three decades. We hold a financial strength rating of "A-" (Excellent) from AM Best, with a stable outlook, reflecting long-term balance sheet strength, with a financial size category of XI ($750 million to $1 billion) and rank 77 on the list of Top 200 U.S. Property Casualty Writers in the 2020 Best's Review.

UFG has been named a Super Regional Property/Casualty Insurer™ by Insurance Journal every year since 2007, and also earned the prestigious "Five-Star Carrier" rating from Insurance Business America in 2019 for our excellence in underwriting expertise, product training, marketing support and broker commitment. For the sixth time, in 2021, we were named to The Des Moines Register's Annual Top Workplaces in Iowa list.

At UFG, we're proud of the recognition we've received in the insurance industry, establishing ourselves as the clear company of choice for our agents, policyholders and employees. These awards reflect our ongoing commitment to delivering exceptional protection and services and demonstrating outstanding integrity and transparency in all we do.
Founded in 1946
The story of UFG begins with the vision of Scott McIntyre Sr., a Cedar Rapids, Iowa, businessman. McIntyre had the ambition to form a stock insurance company in Iowa — an ambition he achieved on January 2, 1946, with the opening of United Casualty Company, as we were originally known.

From there, our story becomes one of small insurance companies merging and working together; of outgrowing old spaces and moving to new ones; of expanding into different territories and acquiring more business; and — through it all — doing business the right way and treating people the right way. Because that's the way we do things at UFG.

Read noteworthy moments in our more than 75 years history.
1946
UFG, originally known as United Casualty Company, opens on January 2, 1946, in Cedar Rapids, Iowa, writing automobile and liability lines of insurance in Iowa.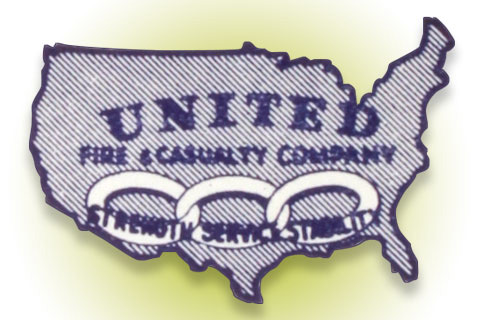 1950
Insurance laws change to allow companies in Iowa to begin selling multiple lines of insurance. The word "fire" is added to our corporate name and we become: "United Fire & Casualty Company."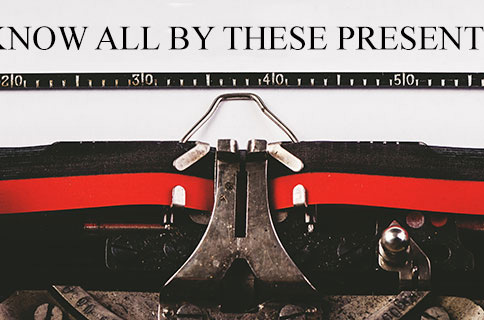 1952
UFG begins selling fidelity and surety bonds. During our first year in the bonds business, we produced $10,282 in written premium.
1962
To complement our product line, UFG establishes a life insurance subsidiary, United Life Insurance Company. Within a year, 55 insurance agents regularly use our life insurance products.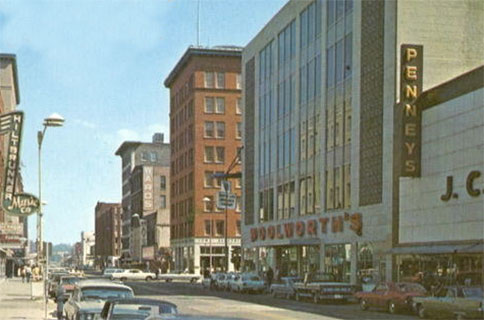 1964
UFG moves to our current corporate headquarters at 118 2nd Avenue SE in downtown Cedar Rapids, Iowa.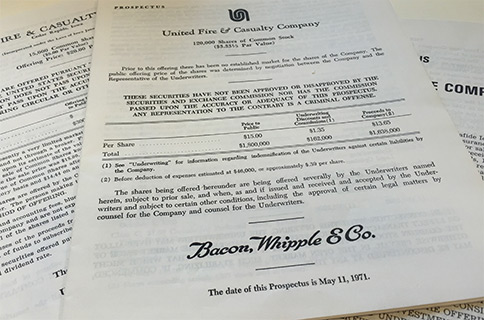 1971
UFG holds our first public stock offering and raises $1.8M. Additional stock offerings are held in: 1986 (public), raising $18M; 2002 (preferred), raising $65M; and 2006 (public), raising $107.5M.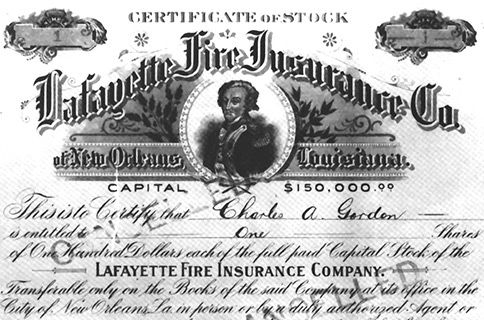 1979
To grow and expand our insurance operations, UFG acquires Lafayette Insurance Company of New Orleans, Louisiana. It is the first of four acquisitions by our company in a 20-year period.
1981
UFG acquires Protective Fire & Casualty Company of Lincoln, Nebraska.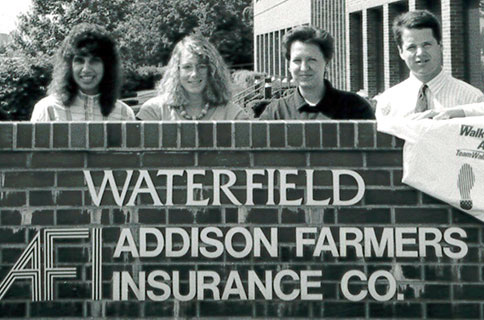 1990
UFG acquires Addison Farmers Insurance Company of Lombard, Illinois.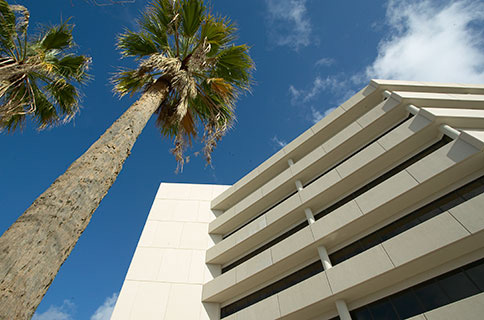 1999
UFG acquires American Indemnity Financial Corporation of Galveston, Texas.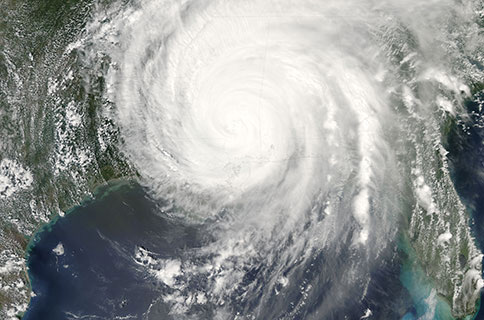 2005
Hurricane Katrina makes landfall in New Orleans, Louisiana, on August 28, devastating much of the north-central Gulf Coast. It remains the costliest catastrophe in UFG history to date.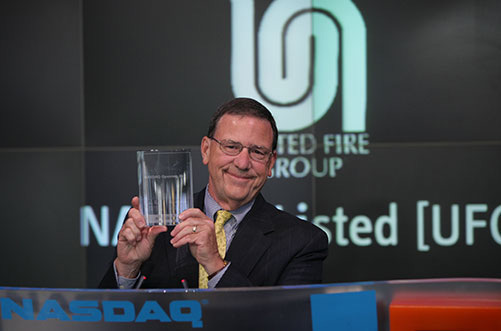 2006
To commemorate our 20th anniversary on the Nasdaq Stock Market, John A. Rife, who served as UFG president and CEO from 1997 to 2007, rings the opening bell in New York City on July 17.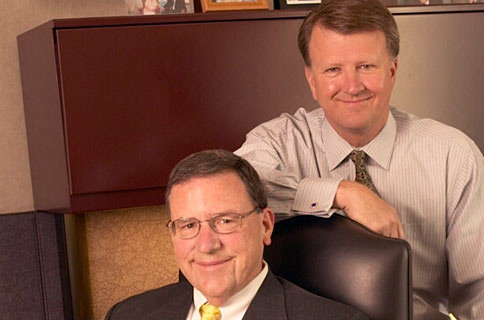 2007
After leading UFG for a decade, John A. Rife retires and Randy A. Ramlo, a member of the company since 1984, is named his successor. He becomes the fifth leader in our history.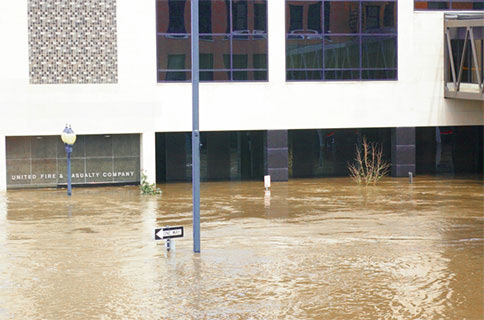 2008
Unprecedented flooding occurs at our corporate headquarters. Though we are forced to temporarily relocate, service to our customers continues without interruption.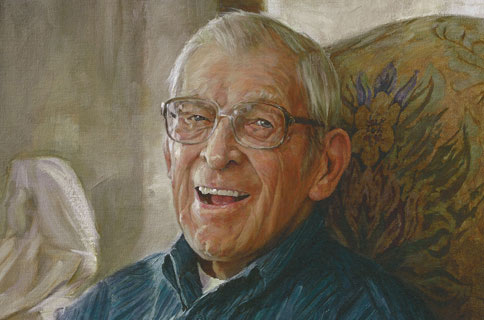 2009
On October 6, Scotty McIntyre Jr., UFG chairman and son of our founder, passes away at the age of 76. He joined UFG in 1954 as a postal clerk, quickly moving up the corporate ladder.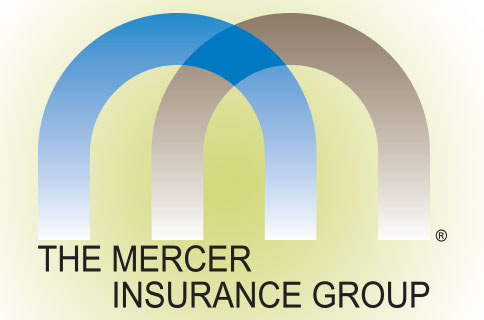 2011
UFG completes the acquisition of Mercer Insurance Group Inc. of Pennington, New Jersey, expanding our insurance operations to the East and West Coast regions of the U.S.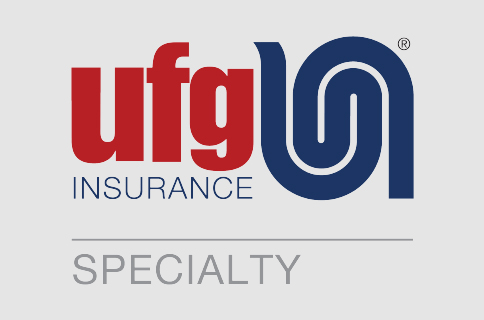 2014
UFG Specialty, our business unit for excess and surplus lines of insurance, launches in Los Angeles, California. Today, UFG Specialty has offices in both Phoenix and Los Angeles.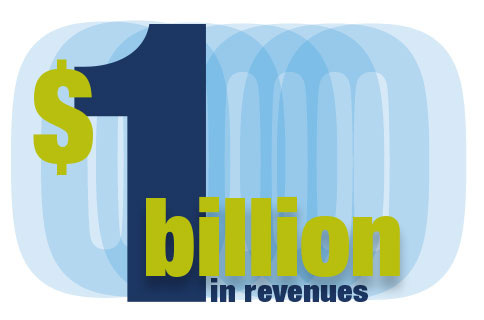 2015
UFG achieves over $1 billion in total revenues for the first time in our history, achieving a strong profit performance.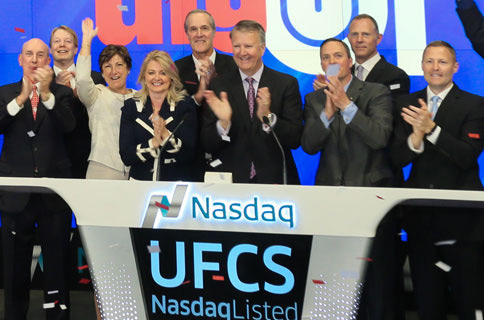 2016
UFG celebrates 70 years in business, 45 years publicly traded and 30 years on the Nasdaq Stock Market. On April 25, our President and CEO Randy Ramlo rings the Nasdaq opening bell.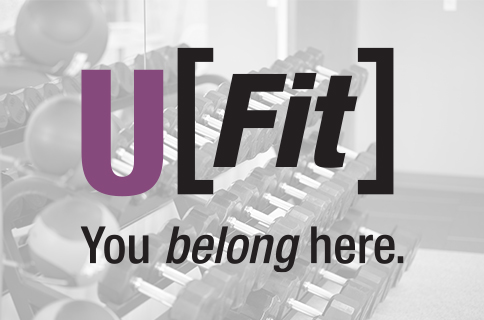 2017
The U[Fit] wellness center opens at our corporate headquarters, boasting 6,000 square feet of state-of-the-art fitness equipment for UFG employees.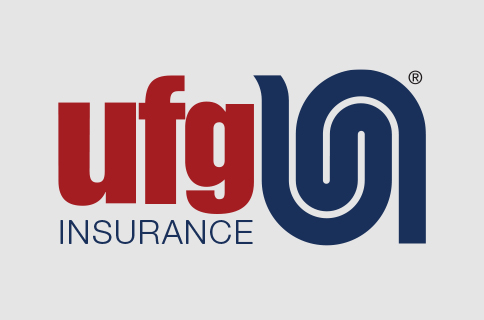 2018
UFG completes the sale of our subsidiary, United Life Insurance Company, focusing on the success of our property and casualty operations for the future.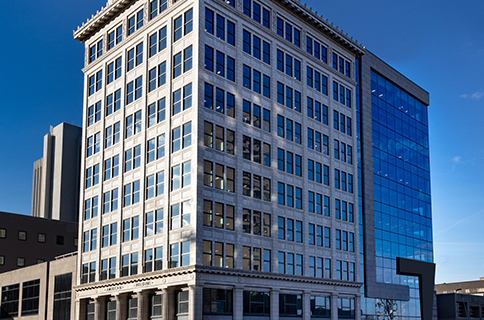 2019
As part of our headquarters expansion, UFG unveils the completely transformed American Building. The historic, 10-story American Building is designed to be a stately mix of old and new, symbolic of our past and future in Cedar Rapids.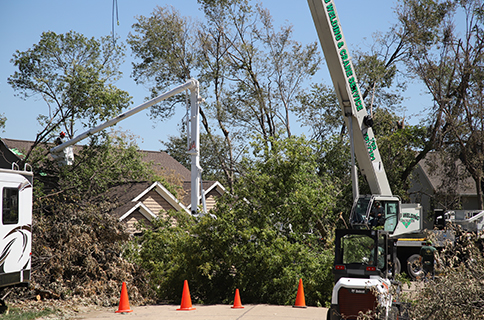 2020
In response to the COVID-19 pandemic, the majority of our 1,100+ workforce transitions to working from home in March. The year also includes our entry into a renewal rights agreement for our personal lines business, as well as the powerful "derecho" that hit Cedar Rapids on August 10, causing widespread destruction and power outages, leaving some employees without power for over a week.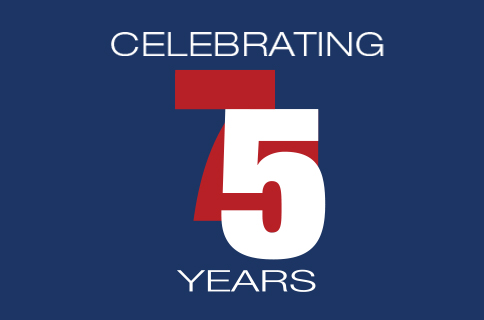 2021
On January 2, 2021, UFG celebrates our 75th anniversary, 50th year publicly traded and 35th year on the Nasdaq. After 75 years in business, we are proud of the successful company UFG has become. Yet, we remain as humble as the day we first opened in 1946, knowing that we owe every success to our people.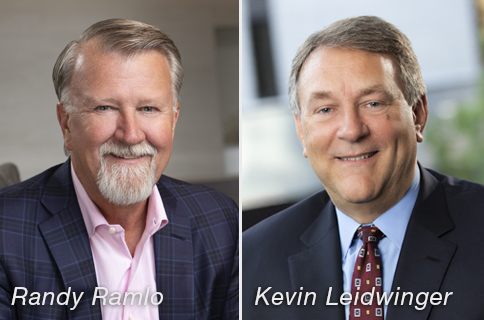 2022
After leading UFG for 15 years, Randy A. Ramlo retires, marking the end of his 38-year career at our company. Kevin J. Leidwinger is appointed his successor, becoming the sixth leader in UFG's history.
Our Customers
Insurance agents and policyholders
Insurance can be complex but selecting coverages, issuing policies, making payments and resolving claims should be simple, at least that's how we think at UFG.

The customer experience has always been at the forefront of our thinking, as we work to create simple insurance solutions for our insurance agents and policyholders, offering protection they can trust in and service they can depend on.

Through our commitment to providing ease of doing business for our insurance agents and peace of mind for our policyholders, UFG has built long-term relationships with our customers — and we know those are the best to have.

Our People
1,100 employees and growing
Our employees are what make UFG such a great company to work for and a great company to do business with. Throughout our offices, our workforce of more than 1,100 people work together to serve our customers, embracing our SPIRIT values of service, partnerships, innovation, respect, integrity and trust.
We know that our employees are more than the voice on the other end of a phone call or the email message in an inbox. Whether assisting an insurance agent with a new policy or helping a policyholder after a loss, the work our people do — and the outstanding way they do it — has an impact that goes far beyond our office walls.

After all, we've entrusted our employees with the important job of fulfilling the promise we make as an insurance company — the promise of protection. And, truly, we couldn't have chosen a better group of people for the job.


Our Corporate Responsibility
More than ink reflects on paper
Our corporate responsibility journey tells the story of how the promises we strive to keep in the business world parallel those we pledge to our communities, employees and environment. At our fundamental core is a vision that inspires us, a mission that motivates us and a strong set of values that define us, all of which drive meaningful corporate responsibility efforts.