UFG Insurance names Kyanna Saylor new vice president of surety
Released on: Aug 30, 2023, 10:30 AM
UFG Insurance is pleased to announce that Kyanna Saylor has been named its new vice president of surety, effective immediately. Saylor succeeds the company's longtime surety leader, Dennis Richmann, who is retiring at the end of September.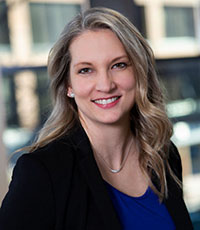 Since 2019, Saylor has been assistant vice president of surety marketing and a valued member of the leadership team. Prior to serving as surety marketing manager, she spent 15 years in surety underwriting at UFG.
In her new role, Saylor will have strategic accountability for the growth and profitability of UFG Surety, carrying forward its commitment to delivering responsive, trusted and knowledgeable service to surety partners across the country.
"Kyanna's deep knowledge of the surety business coupled with her proven ability to build strong relationships with our partners make her the ideal choice for the role," said UFG Executive Vice President and Chief Operating Officer Julie Stephenson. "The surety unit is a key contributor to our results at UFG, with a strong record of profitability over its 70+ years. Kyanna is a highly respected leader and we are excited for the continued success of UFG Surety under her direction."
"It is a tremendous honor to lead the UFG Surety team that I have been a part of for the past 19 years," added Saylor. "We are well positioned to continue delivering long-term profitable growth while providing superior service to existing and new agency partners. This is an exciting time to be a part of UFG Surety."
###
About UFG
Founded in 1946 as United Fire & Casualty Company, United Fire Group, Inc. (UFG, Nasdaq: UFCS), through its insurance company subsidiaries, is engaged in the business of writing property and casualty insurance. Through our subsidiaries, we are licensed as a property and casualty insurer in 50 states, plus the District of Columbia, and we are represented by approximately 1,000 independent agencies. A.M. Best Company assigns a rating of "A-" (Excellent) for members of the United Fire & Casualty Group. For more information about UFG visit
www.ufginsurance.com
.