UFG Insurance appoints Ken Rupert as new chief actuary
Released on: Mar 31, 2023, 08:00 AM
CEDAR RAPIDS, Iowa — March 31, 2023
United Fire Group Inc. (UFG) is pleased to announce the appointment of Ken Rupert as its new chief actuary, effective March 31, 2023.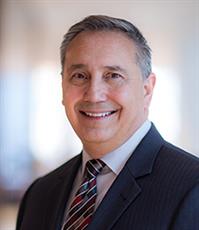 Rupert has 35 years of actuarial experience in the property and casualty industry, most recently serving as senior vice president – risk management and chief actuary at Producers National Corporation in Illinois. Prior to joining Producers National in 2022, he spent over a decade at CNA Insurance, serving as senior vice president and senior actuarial officer.
He holds a Bachelor of Science degree in mathematics from Moravian College. He is also a Fellow of the Casualty Actuarial Society (FCAS) and a Member of the American Academy of Actuaries (MAAA).
"We are excited to welcome Ken to our leadership team," said Executive Vice President and Chief Operating Officer Julie Stephenson. "Ken has a proven record of success in building and leading high-performing actuarial teams. I'm confident that his broad knowledge and deep expertise in pricing, reserving and data and analytics will benefit us greatly as we continue to position UFG for superior financial and operational performance."
In his new role, Rupert will be responsible for the company's actuarial functions. "I am honored to join UFG and look forward to working closely with my new colleagues on the actuarial team," said Rupert. "As chief actuary, I am committed to delivering actionable business insights that will successfully support UFG in achieving its strategic objectives."
###
About UFG
Founded in 1946 as United Fire & Casualty Company, United Fire Group, Inc. (UFG, Nasdaq: UFCS), through its insurance company subsidiaries, is engaged in the business of writing property and casualty insurance. Through our subsidiaries, we are licensed as a property and casualty insurer in 50 states, plus the District of Columbia, and we are represented by approximately 1,000 independent agencies. A.M. Best Company assigns a rating of "A" (Excellent) for members of the United Fire & Casualty Group. For more information about UFG, visit ufginsurance.com.