Kelly Thomas
Kelly Thomas
Going Beyond 2021: Kelly Thomas
Workplace Environment Coordinator Kelly Thomas, a UFG Insurance employee at its Cedar Rapids branch, was named the 2021 Scotty McIntyre, Jr. Go Beyond Award winner.
---
This award honors the legacy of former UFG leader (and son of our company's founder) Scotty McIntyre Jr., who engrained within our corporate culture the importance of giving back. In that spirit, UFG is honored to make a $5,000 contribution to Brandon Area Community Club in recognition of Kelly's longstanding community service.
Watch the moment our UFG team, including former President and CEO Randy Ramlo, surprised Kelly with the award in this smile-generating video.
Homegrown service

Kelly Thomas is a familiar name at UFG Insurance. She's been with the company's Cedar Rapids, Iowa, branch for more than 20 years, helping maintain a safe work environment and training staff on mission-critical computer systems throughout those years. She has changed countless lives for the better during that time, too.
"Kelly is an example of how one individual can make a huge difference in their community," says UFG colleague Erica Bergfeld-Reed. "Kelly has worked to support her own community of Brandon, Iowa, in several different ways but has also found ways to be engaged and support the local community of Cedar Rapids."
She has organized UFG fundraising events to support United Way of East Central Iowa for years and coordinated a successful diaper drive for Cedar Rapids nonprofit YPN, serving young parents in need. Kelly also enjoys taking part in United Way's annual Day of Caring event to help local nonprofits complete some big tasks. As much as Kelly's done to support nonprofits in eastern Iowa, she's poured even more effort into ensuring the small town of Brandon thrives.
"I live in the town I grew up in," Kelly explains, "so I have known these people for a long time — when I can do something to help them it holds a special place in my heart."
With a population of only 320, Kelly says it's hard to find people able and willing to fill the shoes of a local EMT or firefighter. She is one of the people who fills those roles for her community and has been doing so for more than 20 years.
"The only bad thing is, living in a small town, you know everyone, so when you respond to a call it may be a longtime friend or a relative, and the outcome may not be what you were wanting," she says.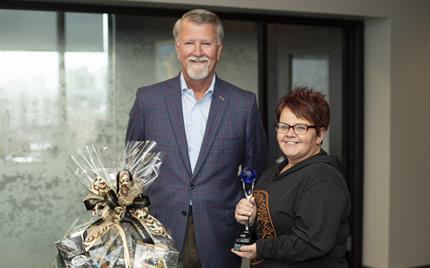 From left: Former UFG President and CEO Randy Ramlo, Kelly Thomas.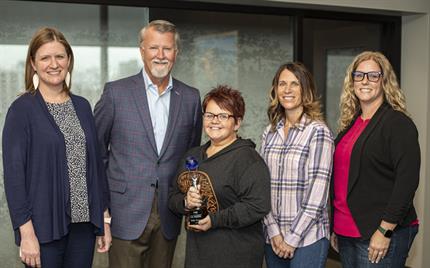 From left: UFG's Alison Kaster, Randy Ramlo, Kelly Thomas, Vicky Wieditz, Erica Bergfeld-Reed.
"It is just a matter of time before you receive a heart stopping call," explains UFG's Vicky Wieditz, one of Kelly's nominators. "It was one of the coldest New Year's Eves a few years ago. Her cousin's house was on fire. In true Kelly fashion, she responded and spent over 12 hours battling this fire. Unfortunately, the house was lost but, fortunately, no lives were lost, and all surrounding buildings had no damage."
In addition to her work as a volunteer firefighter and EMT, she is a staple member of the Brandon Area Community Club, working to offer community enriching celebrations and gatherings all year long. From holiday bashes to annual festivals and more, Kelly is an integral part of cultivating the comradery. She also runs a monthly after-school program, giving the community's children a fun, safe place to gather.
"Volunteering has been a big part of my life," she says. "Some people donate money; I donate time, because the time spent on things gets the project done. Once you see a project completed and you have put your time and effort into it, it makes you feel good."
Kelly knew Scotty McIntyre, Jr. — the Go Beyond Award's namesake — personally, which makes receiving this year's honor even more special. And, because she rarely talks about her commitment to volunteerism, the fact she had been nominated took her completely off guard.
"Getting this award means a lot to me," she explains. "I think I was still in shock the next day."

Do you know a UFG agent or employee to nominate?
Nominations are accepted from January 1 through June 30 each calendar year.