Current Openings
Whether you are a recent college graduate or an experienced industry professional, we're confident that you'll find your desired career path within UFG. So, take the next step and apply for a position today.
---
UFG @ Work
Watch our video series to learn about the different career paths at UFG
---
Product Owner - UFG Online
:
US-IA-Cedar Rapids
:
9/1/2020
Overview:
The Product Owner is accountable for specific business objectives based on the area and/or Product they are focused on. The Product Owner creates a Product roadmap and defines the strategic vision for their team driven by the overall organization vision. He/she will have a deep understanding of the target market/industry and build close relationships with key stakeholders to ensure that the team's effort is aligned with overall strategy. A Product Owner manages dependencies with other team's functions while identifying, building and managing strategic partnerships across the different areas. They work closely within their team to ensure business value and user feedback is translated into new development. The Product Owner must also continually engage with customers and stakeholders on a regular basis and leverage new information to maintain and prioritize the product backlog.
Responsibilities:
Develop Product vision, OKRs, roadmap, synchronize it with the Tribe, and clearly communicate this with stakeholders

Scope the MVPs considering existing resource constraints and sustained development of the Product

Define the business value for the Product and support messaging, communication and customer outreach as necessary

Build Product Backlog (user stories), prioritize the backlog based on business value, and continuously keep the backlog up to date

Accept sprint results at sprint review and ensure the appropriate stakeholders are involved

Ensure team members understand the stories in the backlog and the business value they deliver

Collaborate with Tech Leads to define the technical roadmap for the Product (several sprints ahead of them)

Engage with customers and stakeholders on a regular basis to gather feedback and refine the future of the Product as a result and adjust the backlog as needed

Raise dependencies and roadblocks to Tribe Lead, STL with support of the Scrum Master and help resolve them if needed

Empower teams to be autonomous and self-organizing; does not micro-manage and role models servant leadership by helping to remove impediments to accelerate teams

Conduct/ participate in sprint ceremonies as needed and work to support the team on a daily basis
Qualifications:
Education:
Four-year college degree preferred

Certified Scrum Product Owner (CSPO), Certified Scrum Practitioner (CSP) or Certified Scrum Coach (CSC) preferred – any persons in this role will receive formal Product Owner training for certification

Employees are expected to participate in additional Agile training, in-house training programs, and insurance coursework throughout their careers.
Experience:
Product Management or similar work experience preferred

Experience working in an iterative delivery environment (Agile, Scrum, etc.) preferred

Experience with business analysis, requirements writing, or technical documentation preferred

Project management experience preferred

Experience in backlog development (e.g., prioritization and grooming, writing stories)

Experience with basic development and technology concepts preferred

Experience in the business domain aligned to the product backlog they are Product Owner of preferred
Knowledge, skills & abilities:
Proven knowledge of standard concepts, practices and procedures within the relevant business function

Understanding and knowledge of various internal roles (both business and technology) and how they interact with their product

Strong network and ability to influence decisions within the business function

Strong business mindset covering skills around data driven decision-making, managing up, financial impacts of decisions, and being able to say no to requests that do not align with product and company vision

Strong collaborator with cross-functional teams from tech, design, and business

Strong leader, team player and individual contributor

Strong communication skills with comfort in speaking with business stakeholders

Strong organizational skills managing requests from various sources and apply them to a continuously refined backlog

Effective problem solver with ability to manage and lead the team to push the solution

Strategic thinker capable of envisioning the future of the product

Passion to challenge the status quo and find new solutions, drives outside the box thinking, embraces change

Believes in a non-hierarchical culture of collaboration, transparency, safety, trust

Not afraid to "roll up the sleeves"and seeks to go outside of his/her comfort zone to learn; pushes teams to do the same

Empowers others to fail, learn, and grow

Experimental mindset to drive innovation
---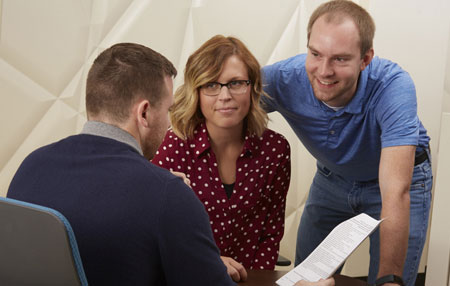 Connect With Us
Join our talent network and receive UFG job alerts
If we don't currently have any job openings that interest you or match your skill set, we encourage you to connect with us to receive updates on job openings and recruiting events at UFG.
Equal Opportunity Employer
UFG is an equal opportunity employer. All qualified applicants will receive consideration and will not be discriminated against on the basis of race, gender, sexual orientation, gender identity, disability, protected veteran or any other protected status. If you need a reasonable accommodation for any part of the employment process, please email humanresource@unitedfiregroup.com to provide the nature of your request. Only inquires for an accommodation will be responded to. For more information on rights protecting job applicants, click here: Equal Employment Opportunity (EEO), Employee Polygraph Protection Act (EPPA), Family and Medical Leave Act (FMLA).

To maintain integrity in our hiring process, UFG voluntarily participates in E-Verify. Click here for more information: E-Verify (English) E-Verify (Español)