Current Openings
Whether you are a recent college graduate or an experienced industry professional, we're confident that you'll find your desired career path within UFG. So, take the next step and apply for a position today.
---
UFG @ Work
Watch our video series to learn about the different career paths at UFG
---
Agile Transformation Office Lead
:
US-IA-Cedar Rapids
:
3/12/2020
:
Information Technology
:
10%
Overview:
UFG offers you an award-winning workplace and a trustworthy, financially stable company. While we've always known our commitment to employees and financial stewardship, it is good to have others recognize our dedicated efforts. We've been named an Iowa Top Workplace by the Des Moines Register for four consecutive years, and included on Forbes' "America's Most Trustworthy Financial Companies" every year since 2014. Additionally, UFG is a super-regional property and casualty insurer rated "A" (Excellent) by A.M. Best Company.
The Agile Transformation Office Lead would be responsible for leading a transformation wave, including problem-solving the future operating model, ensuring a wave is executed in a timely and effective manner and coaching senior leaders on agile mindsets and behaviors. Lead teams to assess the implications of their Agile adoption, identify organizational, operational and process changes needed to optimize the impact of our Agile transformation, and work to manage communication and drive change.
This role requires Agile and organization change expertise, excellent facilitation and conflict resolution skills, and a servant leadership mindset. One in this role can think strategically, identify and overcome challenges as they arise. While strong facilitation of large group sessions is paramount to the role, he/she must be equally comfortable in a strategic collaboration role. The Lead of ATO understands when taking the lead is required and when a more optimal outcome can be achieved by empowering others to embrace the challenge of leadership, while supporting them to do so. The Lead of the ATO will work in tandem with Transformation Tribe lead to understand the "why" and the Enterprise Agile Coach to execute the "how".
Responsibilities:
Identify strengths and opportunities in the current operating model for a given area across structure, people, process and technology.

Liaison between company direction and Agile transformation strategy

Guide the business leads in defining a detailed operating model that builds on the strengths and captures the opportunities.

Coaching executive members to optimize effectiveness in supporting an Agile transformation.

Drive culture change parallel to the adoption of an Agile mindset.

Develop and revise enterprise transformation/rollout plan.

Facilitate high-level, cross-team, cross-functional information gathering and decision-making sessions.

Constraint analysis across the enterprise. Identify and remove constraints based on business impact.

Develop and maintain cumulative reporting, OKRs, data and metrics showing transformation health, progress, successes and constraints.

Work in tandem with external rollout partners to collaborate on a joint plan and develop a feedback loop to maximize their effectiveness.

Evangelize the Agile mindset.
Qualifications:
Education:
Four-year college degree required or equivalent work experience; Masters preferred

Certified Scrum Master (CSM), Certified Scrum Product Owner (CSPO), Certified Scrum Professional (CSP) or Certified Scrum Coach (CSC) preferred

Certified or working towards a Certified Agile Leadership (CAL) designation and/or a Change Management certification preferred

Insurance coursework or designations in the following areas is a plus: Chartered Property Casualty Underwriter (CPCU), Associate in Insurance Services (AIS), and other similar programs.

All employees are expected to participate in insurance classes or in-house training programs throughout their careers with UFG
Experience:
Experience with various facilitation, coaching and training methods and concepts required

Experience with team building required

Experience in backlog development, prioritization, refinement and writing user stories required

Experience participating on multiple, diverse teams in an Agile setting required

Experience with basic development and technology concepts required

Experience working with and coaching C-suite and executives preferred

Experience working across multiple business delivery channels preferred

Strong Network of partners and colleagues involved in Agile transformations preferred

Experience leading an Agile transformation preferred
Knowledge, skills & abilities:
Problem solving – has significant experience in defining and solving complex problems

Organizational design – has engaged in large scale organizational design exercises in the past

Action Oriented -- Enjoys working hard; is action oriented and full of energy for things he/ she sees as challenging; not fearful of acting with a minimum of planning; seizes more opportunities than others

Perseverance -- Pursues everything with energy, drive and a need to finish; seldom gives up before finishing, especially in the face of resistance or setbacks

Motivating Others -- Creates a climate in which people want to do their best; can motivate not only direct reports and team or project members, but also senior leadership; can assess each person's hot button and use it to get the best out of him / her; pushes tasks and decisions down; empowers others; invites input from each person and shares ownership and visibility; makes each individual feel his / her work is important; is someone people like working for and with

Communication – Can deliver high-impact presentations to senior level leaders across the organization while communicating clear and tough messages in a way that instills credibility and confidence with senior level leaders

Intellectual Horsepower -- Is bright and intelligent; deals with concepts and complexity comfortably; described as intellectually sharp, capable and agile. Needs to be considered a thought partner to senior level leaders

Managing and Measuring Work -- Clearly assigns responsibility for tasks and decisions; sets clear objectives and measures; monitors process, progress and results; designs feedback loops into work

Time Management -- Uses his / her time effectively and efficiently; values time; concentrates his/ her efforts on the more important priorities; gets more done in less time than others; can attend to a broad range of activities

Customer focus – Takes a customer first approach; and is not only mindful of how new ideas will impact customer experience and perceptions, but challenges the team to always act in the benefit of the customer
---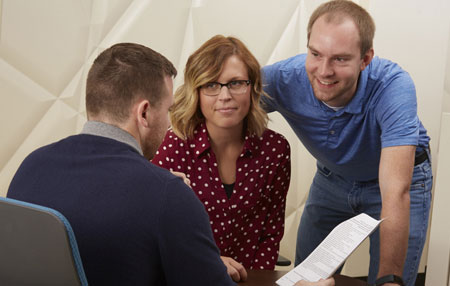 Connect With Us
Join our talent network and receive UFG job alerts
If we don't currently have any job openings that interest you or match your skill set, we encourage you to connect with us to receive updates on job openings and recruiting events at UFG.
Equal Opportunity Employer
UFG is an equal opportunity employer. All qualified applicants will receive consideration and will not be discriminated against on the basis of race, gender, sexual orientation, gender identity, disability, protected veteran or any other protected status. If you need a reasonable accommodation for any part of the employment process, please email humanresource@unitedfiregroup.com to provide the nature of your request. Only inquires for an accommodation will be responded to. For more information on rights protecting job applicants, click here: Equal Employment Opportunity (EEO), Employee Polygraph Protection Act (EPPA), Family and Medical Leave Act (FMLA).

To maintain integrity in our hiring process, UFG voluntarily participates in E-Verify. Click here for more information: E-Verify (English) E-Verify (Español)