Current Openings
Whether you are a recent college graduate or an experienced industry professional, we're confident that you'll find your desired career path within UFG. So, take the next step and apply for a position today.
---
UFG @ Work
Watch our video series to learn about the different career paths at UFG
---
Director of Enterprise Transformation
:
US-IA-Cedar Rapids
:
11/18/2019
:
Corporate Underwriting
:
25%
Overview:
UFG offers you an award-winning workplace and a trustworthy, financially stable company. While we've always known our commitment to employees and financial stewardship, it is good to have others recognize our dedicated efforts. We've been named an Iowa Top Workplace by the Des Moines Register for four consecutive years, and included on Forbes' "America's Most Trustworthy Financial Companies" every year since 2014. Additionally, UFG is a super-regional property and casualty insurer rated "A" (Excellent) by A.M. Best Company.
The Director of Enterprise Transformation will lead a robust, comprehensive program to enhance enterprise performance and enrich organizational health. This role will be instrumental in creating the enterprise of the future, and realizing benefits from transformation programs enabled by technology, innovation and business initiatives as part of UFG's strategic plan. This individual will lead change management and enterprise learning efforts across the organization and oversee resources related to managing these efforts.
Expectations include defining the overall organizational change enablement strategy and leading efforts for each facet of organizational change, including but not limited to: Executive alignment, stakeholder communication, change impact management, journey mapping, readiness assessments, organizational learning strategies, adoption tracking and management, and value realization.
The Director will enable the successful evolution of organizational culture, as well as the advancement of knowledge, capabilities and performance across the enterprise. They will inspire employees and act as a role model, exhibiting the behavior needed to encourage and embed lasting change. At the heart of this role is an ability to strike the right balance between short-term improvement and long-term value, ensuring managers themselves take responsibility for change and personally ensure they deliver results quickly and with passion.
A successful transformation leader requires independence, has experience managing organizational change at an enterprise level, and is successful in aligning support from all key stakeholders. The key aspects of this role are to provide change management, communication and training / learning to support all transformation efforts at UFG.
This position requires the high-level orchestration of complex organizational knowledge and change strategies supporting a large number of discrete initiatives. Responsibility for making the day-to-day decisions and implementing those initiatives lies with the leadership team and managers, but the transformational change leader's job is to ensure alignment to business objectives and that all stakeholders are engaged in the transformation itself.
Exceptional problem-solving skills and business acumen are required, along with a high level of emotional intelligence and strong interpersonal and communication skills. It's important that this leader has a strong cross-functional background and has seen a variety of different business situations and challenges during their career.
INDHP
Responsibilities:
Developing, leading, executing enterprise level comprehensive and customized organizational change strategies and plans.

Developing overall change and stakeholder engagement plan for the UFG Executive Team, Senior Leadership and their teams across multiple regions.

Identifying and documenting organizational impacts of change initiatives and planning strategies that lead to successful adoption.

Assessing organizational cultures, capabilities, and alignment to effectively tailor change management approaches.

Leading stakeholder analysis efforts, conducting stakeholder interviews, analyzing needs and synthesizing findings.

Effectively engaging senior leaders as sponsors of change.

Identifying change risks and developing mitigation strategies.

Analyzing training, communications, adoption, change network, and performance support needs, and developing and delivering appropriate solutions.

Measuring and assessing the effectiveness and ROI of OCM activities.

Managing stakeholder expectations and engagement.

Project management and leadership of OCM activities.
Qualifications:
Education:
Bachelor's degree of equivalent required
Experience:
10+ years of experience in Organization Change Management, Training or HR leadership

Demonstrated successful track record of leading an enterprise-wide organizational change management program
Knowledge, skills & abilities:
Proven ability to work as a self-starter in a fast-paced work environment

Highly organized and detail-oriented

Team player with excellent relationship-building skills

Entrepreneurial approach and proactive attitude

Excellent organizational and interpersonal skills

Advanced problem-solving capability and ability to generate a collaborative, progressive work environment

Credibility and ability to interact and influence all levels of the organization

Ability to understand and perform in UFG's culture

Leadership – Strong leadership skills with the ability to drive collaboration and cooperation across the company, at all levels.

Innovation – Ability to generate innovative and creative solutions that aligns to company culture, objectives and supports operational excellence.

Proven experience working in an Agile organization, and enabling the adoption of Agile principles

Facilitating Change – The consideration of each change individually, and the planning of the most appropriate approach to the situation.

Strategic Thinking – The application of information on internal and external drivers for the change when scoping, planning and making decisions.

Superior Judgment – The application of logic and thinking processes to analyze situations and problems so as to design effective solutions.

Influencing Others – The effective exploration of alternatives and positions so as to reach outcomes that gain all parties' support and acceptance.

Coaching for Change – The preparation of managers and employees for change through coaching in managing change skills and addressing resistance, building of organizational capability for the future.

Project Management – The application of knowledge, skills, tools and techniques to project activities in order to meet or exceed stakeholder needs and expectations from the project.

Communication Skills – The building and maintaining of open, collaborative and reciprocal relationships with others.

Facilitation (Meetings and Workshops) – The effective guidance of a group to appropriate and useful outcomes, in a constructive and timely manner.

Learning & Development, Communication Plans – The high-level assessment of needs, approaches, design and delivery methods for the implementation of learning solutions to meet business needs.

Self-management – The assumption of full accountability for own performance in achieving change management outcomes.

Professional Development – A continual effort to gain more knowledge, develop more effective skills and promote the profession of change management.
---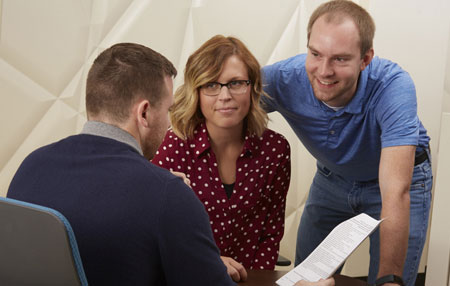 Connect With Us
Join our talent network and receive UFG job alerts
If we don't currently have any job openings that interest you or match your skill set, we encourage you to connect with us to receive updates on job openings and recruiting events at UFG.
Equal Opportunity Employer
UFG is an equal opportunity employer. All qualified applicants will receive consideration and will not be discriminated against on the basis of race, gender, sexual orientation, gender identity, disability, protected veteran or any other protected status. If you need a reasonable accommodation for any part of the employment process, please email humanresource@unitedfiregroup.com to provide the nature of your request. Only inquires for an accommodation will be responded to. For more information on rights protecting job applicants, click here: Equal Employment Opportunity (EEO), Employee Polygraph Protection Act (EPPA), Family and Medical Leave Act (FMLA).

To maintain integrity in our hiring process, UFG voluntarily participates in E-Verify. Click here for more information: E-Verify (English) E-Verify (Español)