Worth It stories turn pain into change
Released on: Sep 30, 2019, 10:00 AM
UFG Insurance rolled out a campaign, Worth It, to remind people of the deadly dangers behind distracted driving in September 2017.
Since then,
W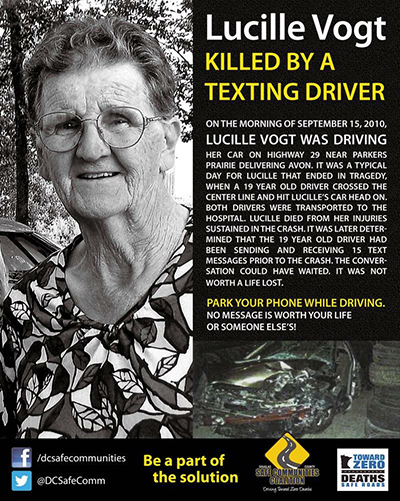 orth It
has taken its message across the country with presentations, videos and pledges to avoid driving distracted, in addition to the launch of a college scholarship program for teens. Worth It shared 136 presentations, received 2,703 pledges, and awarded 10 scholarships within the first seven months of 2019 alone.
A profound part of the Worth It endeavor is its effort to help people understand how a business, family and life can be affected by a crash caused by distracted driving—a life like 77-year-old Lucille Vogt's.
When Lucille set out on a Minnesota highway on the morning of September 15, 2010, she was traveling to deliver cosmetics. What started as a typical fall day ended in tragedy when her car was hit head on by driver who had been texting. In a blink, she lost her life to a conversation that wasn't worth it.
Lucille's daughter, Lois Roers, turned the pain of loss into a conduit for change. Read about her influence to make Minnesota a hands-free state on the
story board
of ufgworthit.com. While you're there, check out
more inspiring stories
from people left in the wake of distracted driving and
take the pledge
to end it.
Have you or someone you know been involved in a crash attributed to distracted driving? Is your school, business, or organization presenting Worth It in your communities? Whatever your Worth It experience, we'd love to hear your story.
Contact us
via form or email us at
worthit@unitedfiregroup.com
.
Because life is worth it. Distracted driving is not.